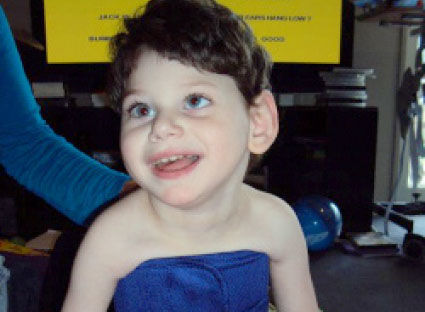 The CharleyWrap has provided Alex an opportunity to breath easier, sleep in a better position, and maintain better head control and arm function. It has decreased his bad movement patterns, and made Alex generally easier to handle and position for his family and carers. The photos really do speak for themselves.

Alex has severe spastic quadriplegia/dystonic cerebral palsy. He has a 'C' spine (Kyphosis) and his ribs are flaring caused by lack of tone in his trunk. Due to his inability to hold himself up he is unable to maintain head control or have any arm function unless he is in a very supportive piece of equipment (which traditionally would put far too much steel and plastic between me and him!). The only alternative until now was to hold him at his lower back and upper chest, leaving no arms left for me to easily read a book or play with his puppets. Now with the CharleyWrap, sitting together on the floor or cuddling on the couch, he is in a very functional and secure position.

We have found the CharleyWrap to be an easy to fit, easy to wash, easy to dry, affordable, quality piece of equipment. Alex shows no signs of discomfort wearing it for extended periods of time, and we can clearly see it will make a big difference to maintaining Alex's physical needs for a comfortable future.

I would like to extend a huge thank you to Jenn for this ingenious invention, and expect to see it as a household name for physiotherapists and hospitals in the future!

Anna
Back...